Are you looking for an exciting music festival to attend this summer?
Look no further than the Shipston Proms, a two-week celebration of all genres of music held in the charming town of Shipston-on-Stour. With performances by local musicians of all ages and national acts alike, the Shipston Proms is a must-attend event for music lovers of all kinds. Plus, with a packed schedule of events, including a Launch Night, Shipston Introducing competition, and a legendary Final Night featuring internationally acclaimed headliners, there's something for everyone.
The small town of Shipston-on-Stour is not the first place that comes to mind when thinking of a music festival. But for the past 25 years, the Shipston Proms have been drawing crowds from near and far to enjoy a diverse range of musical genres in a celebration of local talent and community spirit.
Originally created in 1998 as a one-week event, the Proms have evolved into a two-week festival of music held in June. Organised by a small committee of music lovers, the Proms aim to appeal to as many people as possible, showcasing local musicians of all ages and bringing national acts into town. This year's Proms will run from 17th June to 1st July, with a Launch Night kicking things off and the legendary Final Night closing the festivities.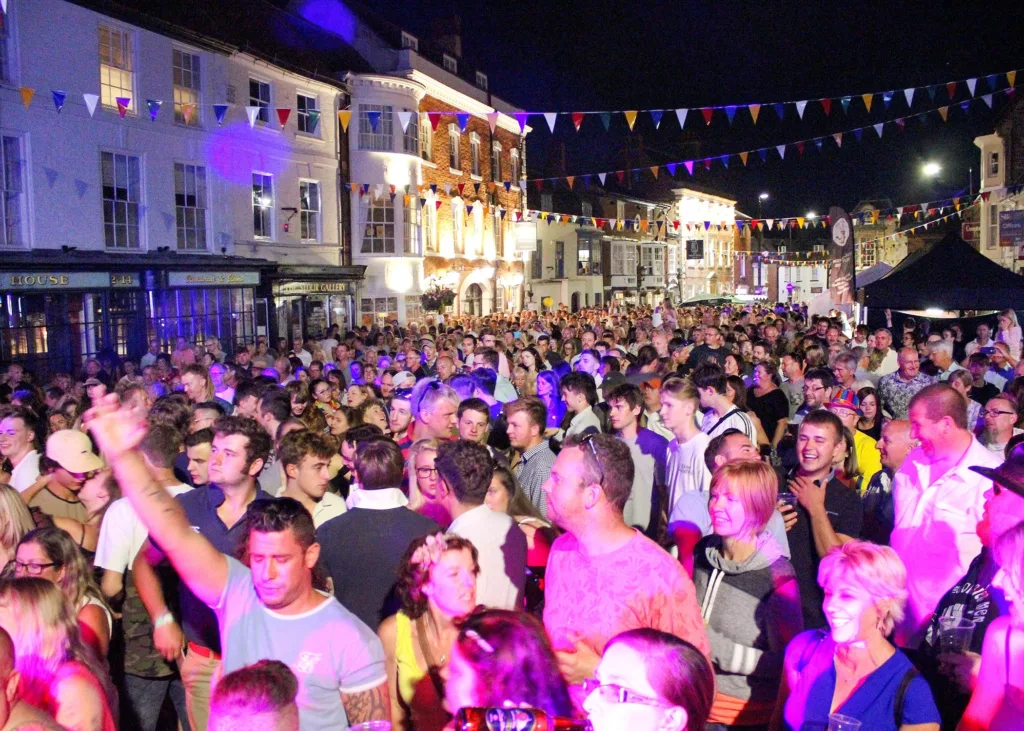 The Final Night, held in the town's High Street, is a highlight of the festival, with bands playing from the back of a pantechnicon and up to 1000 people cramming into the square. This year's headliner is the internationally acclaimed swing band King Pleasure and the Biscuit Boys, with support from the young upcoming band The Weekend Warriors, who won the 'Shipston Introducing' competition last year.
'Shipston Introducing' is a competition held on the first Sunday of the festival, allowing budding performers the chance to share their music with a wider audience. Past winners have gone on to greater things, including guitarist Laurence Jones, who won the contest when he was just 14 and is now an internationally acclaimed blues guitarist. Indie band Brixton Alley, who won in 2015, are now touring in Australia. Oliver Darling, a blues legend from nearby Brailes, has played regularly for Imelda May.
Headliners at the Proms vary each year but must all be crowd-pleasers. Past acts have included The Animals, The Selector, Ultimate Bowie, and The Blockheads. However, the festival also caters to classical tastes, with performances from the famed Orchestra of the Swan and new events such as 'Down Memory Lane' held at a local retirement home. This year, they are excited to announce that for the very first time, an Opera night sung by locally based professional opera singers Anna Patalong and Benedict Nelson will be in the programme for the very first time.
Performances are held in pubs, cafes, halls, and churches in Shipston and the surrounding villages, and music workshops are arranged at local schools. Shipston-based professional sound technicians 'Clearsound' provide the best sound quality possible for the musicians.
Funding for the festival comes from business and private sponsorship, grants, ticket sales, and donations through bucket collections. A Go Fund Me page has been created this year to cope with the ever-spiralling costs. A Friends programme allows members to buy an annual pass for free entrance to most ticketed events. However, people continue to be very generous, and local pub owner Dave Allsopp has just raised £1000 from his Thursday quiz nights to go towards the costs of the Shipston Proms.
The Shipston Proms are a testament to the power of community spirit and the love of music. The festival has grown and evolved over the years, but its core mission remains the same: to provide music for all and to bring people together in celebration. For more information and to get involved, visit www.shipstonproms.org or the festival's Facebook page. The organisers look forward to welcoming familiar and new faces to this year's events.