The Christmas season is akin to a magical tapestry, woven with the vibrant threads of festive markets, the sparkle of decorated streets, and the hushed whisper of snowfall. It's a time of unity and celebration, an occasion that beckons families to come together, often journeying through the length and breadth of the nation to share in the joyous festivities. But, as any parent can attest, the spell of Christmas can quickly unravel when faced with the trials of travelling with young ones. The key to maintaining the holiday cheer lies in careful preparation and a sprinkle of ingenuity.
F is for Food and Snacks
Imagine a tapestry of tastes that can turn tedious trips into tantalizing adventures. Packing a melange of snacks is like preparing a picnic under the Northern Lights – exciting, unexpected, and utterly delightful. Keep hunger at bay with a mix of sweet and savoury treats, and don't forget the secret weapon – a thermos filled with liquid gold, be it hot chocolate or a soothing tea, to warm little hearts and hands.
E is for Embrace the Journey
There's profound wisdom in the adage, "It's not the destination, but the journey that matters." Steering off the beaten path can transform your trip into a voyage of discovery. Take the scenic route and let the UK's winter wonderland captivate your family's imagination. And what's a festive journey without a soundtrack? Compile a playlist of carols and classics to sing your way to your destination.
S is for Stress
Stress is the Grinch that can steal the Christmas spirit. Keep it at bay with planned pit stops to stretch, play, and breathe. When using public transport, consider child locators – modern-day breadcrumbs that ensure your little ones are never too far from your side, even in the most bustling places.
T is for Travel Preparation
Before you set off, give your car the gift of a winter check-up. Planning and preparation can make all the difference between a journey filled with 'Bah Humbug' moments and one that's smooth 'sleighing'. And for those flying away, remember that while airport liquid rules may be relaxing, it's always best to check twice before packing.
I is for Insulation
Dress your children in layers of joy – warm, waterproof, and breathable – to fend off Jack Frost's nippy embrace. Think of it as wrapping your little ones in their own personal winter wonderlands.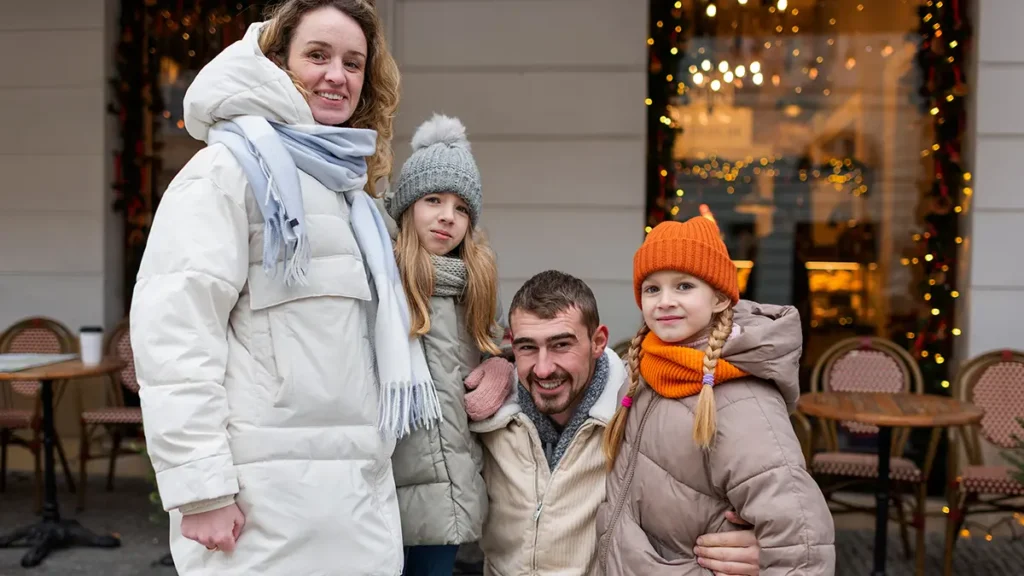 V is for Volatility
In the UK, winter is a box of chocolates – you never know what you're going to get. Keep abreast of the weather, and pack your vehicle with essentials for every scenario. Your car should be as prepared for a winter's tale as your home is for Christmas Eve.
E is for Entertainment
In our digital age, entertainment is a genie that can be summoned with a tap. Equip your children with gadgets and gizmos aplenty, and watch the miles melt away amidst laughter and fun. Remember, a journey well entertained is a memory well made.
Conclusion: Keeping the Joy in the Journey
As the journey ends, may your spirits be as high as the star atop the Christmas tree. With a dash of planning and a dollop of creativity, travelling with children can be part of the festive fun, a prelude to the celebrations to come. So, here's to happy trails and tales this holiday season!
FAQs
Q1: What are the best snacks to pack for a festive journey?
A1: Go for a mix of healthy and indulgent snacks – think fruit slices, nut mixes, sandwiches, and perhaps some festive treats like gingerbread cookies. And don't forget a thermos for a warm beverage!
Q2: How can I make the journey part of the festive fun?
A2: Consider taking scenic routes, playing festive music, and planning engaging games or stops along the way to make the journey as exciting as the destination.
Q3: What should I include in a winter car kit?
A3: Include essentials like a snow shovel, blankets, extra warm clothing, water, and snacks. It's always better to be over-prepared when it comes to winter travel.
Q4: How can I keep my kids entertained during long journeys?
A4: Diversify entertainment options with gadgets like tablets, audiobooks, magnetic drawing boards, and classic card games to keep the journey lively.
Q5: Any tips for travelling with children on public transport?
A5: Reserve seats in advance, bring compact entertainment options, and consider using child locators for peace of mind in crowded spaces.