Education is a powerful tool for breaking the cycle of poverty, and the Kono Town Community Crossing proposed secondary school aims to provide this opportunity for young people in Sierra Leone.
Join us as we share the latest updates on the project's progress, from purchasing land to clearing it for construction. Learn about the inspiration behind the school's name and the meaningful impact it will have on the community. Find out how even small donations, like the £36 raised by five-year-old Harry Perkins, can make a big difference in the lives of students like Mohamed Koroma. Help us build hope and create a brighter future for Kono Town by getting involved and supporting the Westminster International Community School project today.
Kono Town Community Crossing proposed secondary school
Since my last newsletter, there has been a good deal of progress and I am pleased to report that I have received donations, so far, to enable me to purchase 2 plots. I've agreed with the landowners that we will purchase 4 plots as planned in the very near future and take the option for the other 2 plots in the future. As a result of this, they have agreed to gift us 2 plots upon payment for the 4 plots. We are in the final stages of getting the land ownership documents completed and as an act of good faith, they have already let us clear the land, which has been completed, ready for building work to begin. I intend to name the school Westminster International Community School in recognition of all the great support that I have received over the last ten years from Westminster Group PLC.
The name Westminster also has a personal significance for me, as I attended Westminster College, Oxford for my teacher training. Although I left teaching, the importance of education has been very evident in all my trips to Sierra Leone and I always remember a Nelson Mandela quote – " education is the first step out of poverty".
Harry Perkins, aged 5 is a little star!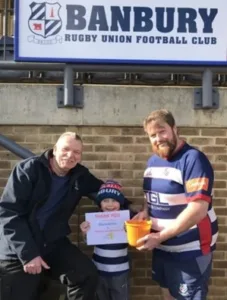 Owen, Harry's dad, had told him about children in Sierra Leone and Harry decided he wanted to help. The first picture shows Harry & Owen, at the rugby club, handing over a bucket of 1p & 5p pieces that he has been collecting – it contained £36 !! Here is Harry with his "Certificate of Appreciation" which says "Small Change, Makes A BIG Difference"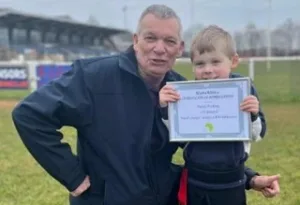 The boy below is Mohamed Koroma, a six year old pupil, at Banbury International Community School. Harry's £36 is paying for Mohamed to attend school for an academic year, that's why Harry is a little star who is "Making A Real Difference".
This shows we can ALL "Make A Difference" – Interested in helping? Just drop me an e-mail EVERY £ raised goes directly to the projects.
If you would like to get involved contact Alan directly: e-mail: [email protected] web: www.alansafrica.co.uk twitter: @AlansAfrica Mob: 07800 558524