The Boxing Hare is a charming inn and restaurant situated in the beautiful village of Swerford, just a few miles away from Chipping Norton. It has received numerous glowing reviews, including some that say its got the "best steak in the world", which piqued our interest and led us to visit this foodie destination ourselves. We were not disappointed.
As soon as we arrived, we were greeted by the picturesque setting of stone-built walls, wooden beams, and a delightful garden that is perfect for al fresco dining. The Boxing Hare used to be a Masonic Lodge, but it has since been transformed into a privately-owned pub/restaurant that offers high-quality food with integrity in a warm and welcoming environment. The restaurant's ethos is to use locally-sourced ingredients wherever possible, including Long Horn beef from nearby Paddock Farm, which is dry-aged for 70 days on the premises in special cooling cabinets, making it a firm favourite among customers.
Owner Antony Griffith Harris is a highly experienced restauranteur with over 30 years of experience in London's top restaurants, where he won many accolades for providing exquisite food in stunningly decorated surroundings in West London and fashionable Notting Hill. He opened his first venue in 1987 and reunited with double Michelin star winning Head Chef Nicholas Anderson in 2017 to establish The Boxing Hare. Together, they have created a menu that offers a range of seasonal choices, carefully crafted to showcase fresh local ingredients and to provide a harmonious balance of flavours, tastes, and textures.
During our visit, we started with four sharing plates that included Nocellara de Belice, Gordal & Usla Olives; Smoked Sardine Tostada, Confit Shallot & Wild Garlic Aioli; Sticky Sesame Chicken Wings, Coriander & Chili and Crispy Salt & Pepper Cornish Squid, Wakame Sesame Salad, Pickled Cucumber. These were all of excellent quality and were a great introduction to the flavours that were to follow.
For starters, we tried the Twice Baked Cave Aged Cheddar Souffle, Spinach & Parmesan; Thai Spiced Mussels, Lime, Ginger, Coriander & Chilli and Burmese Brown Shrimp & Tea Leaf Salad, Sesame, Coriander, Lime, Chilli, Peanut & Fresh Peas. Each starter was beautifully composed and executed, with the souffle being particularly noteworthy for its perfectly balanced flavour and light, soft texture, and the Thai spiced mussels being a standout dish with its well-balanced blend of spices.
For our main courses, we chose the 70 Day Dry Aged 10oz Rib Eye Beef Steak, triple cooked chips, House green Salad, and a choice of sauces; the Cornish Day Boat Hake, Dill Mash, Roast Fennel, Lemon & Madeira Veloute and the Escalope of Corn Fed Chicken, Butter Fried Free Range Egg, Garlic, Parsley & Caper Butter & Warm Potato Salad. The dishes were all cooked to perfection and had an excellent balance of flavours. The steak was undoubtedly the star of the show, with its melt-in-your-mouth texture and deliciously rich flavour that was enhanced by the choice of sauces.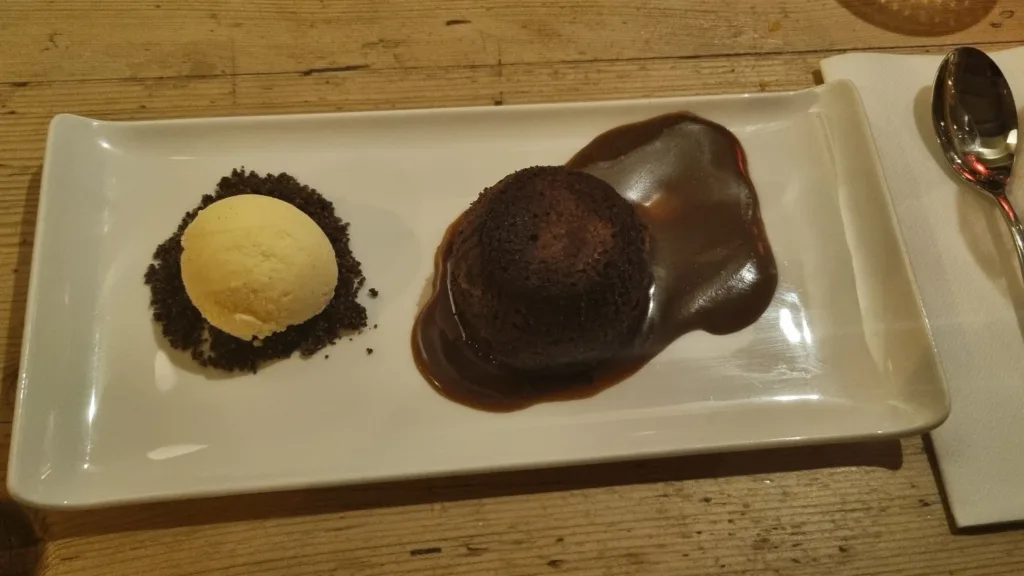 We finished our meal with three desserts namely the Warm Chocolate Fondant, Salted Caramel Sauce, Chocolate & Almond Crum, Vanilla Ice Cream; the Iced Peanut Butter Parfait, Caramelised Banana, Toffee Sauce & Honeycomb and the Kate's Ice Creams, Vanilla, Almond Brittle, Honeycomb and Guinness. Each dessert was a delight, with the warm chocolate fondant being particularly noteworthy for its gooey centre and the perfect balance of sweet and bitter chocolate. The iced peanut butter parfait was also a standout, with its creamy texture and rich peanut butter flavour.
Overall The Boxing Hare was exceptional. The food was of a high standard, and the service was attentive and friendly. The restaurant's commitment to using locally-sourced ingredients and providing a warm and welcoming atmosphere makes it a true gem in the Cotswolds. We highly recommend The Boxing Hare to anyone looking for an outstanding dining experience.
We have promised ourselves to go back for their very well-regarded Sunday Lunches.
The Boxing Hare, Banbury Road, Swerford, OX7 4AP
01608 683212
Wed to Sat 12.00pm to 2.00pm & 6.00pm to 9.00pm.
Sunday 12.00pm to 3.30pm.