Katharine House will be spreading some Christmas joy again this year with a host of festive fundraising events – including a Santa Fun Run, a remembrance service, the Tractor Run and a Christmas tree recycling initiative.
The hospice's Santa Fun Run is back by popular demand this year, where hundreds of festively dressed participants will swarm together to take-on the 5k or 1.5k challenge on 3 December at Spiceball Park, Banbury.
As in previous years, Christmas suits will be available for those that would still like to use them, but this year, in an effort to cut down waste, the hospice is offering runners a couple of greener options too, giving them a choice to reuse an old Santa Suit, wear something red or just opt for a Christmas hat.
Dee Loader and a group of her close school pals, who have known each other for over 25 years, took part in last year's Santa Fun Run in memory of their friend Lisa who died at the hospice in 2015 at the age of 29.
Dee said: "Katharine House Hospice was so kind and supportive during a very difficult time and we wanted to give back to say thank you. Our whole friendship group took part. And we decided to make it a little harder by including our children, all aged between the ages of two and eight! It's festive fun for everyone and a fabulous fundraising opportunity."
To find out more about the Santa Fun Run, visit www.khh.org.uk/santa.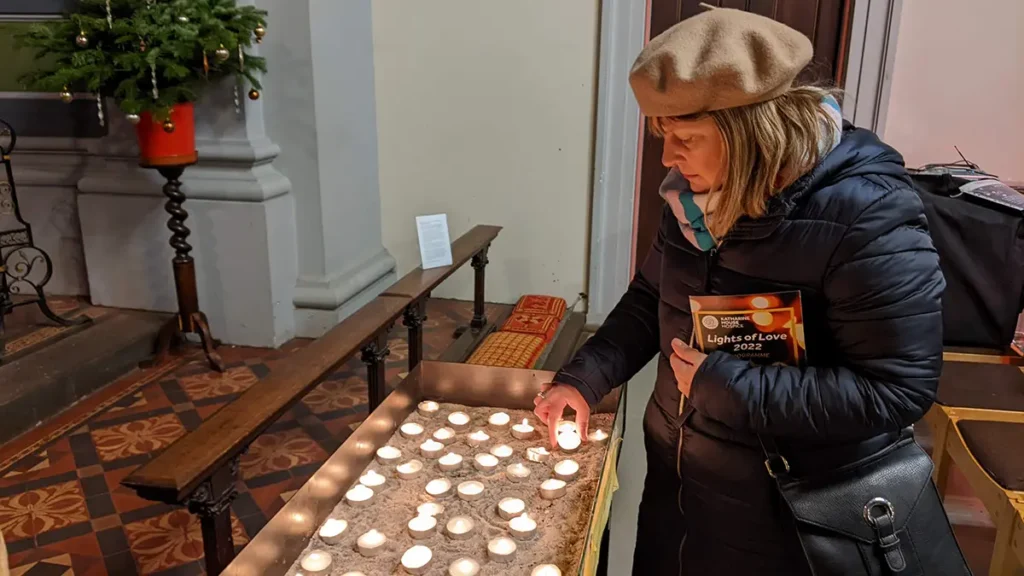 Family and friends will get the change to remember their loved ones at the hospice's special Lights of Love ceremony on 7 December. The event will begin at 7pm at Banbury Cross with the traditional switching on of the Christmas Tree lights, followed by the main event at 7:15pm at St Mary's Church which will feature music and blessings. Find out more here www.khh.org.uk/lights-of-love
A festive fleet of fairy-lit tractors will once again tour around local villages and Banbury town as part of RC Baker's popular Tractor Run, this time taking place on 16 December. Visit www.khh.org.uk/tractor-run for more information.
The hospice's Christmas cards, available for sale on the Katharine House Ebay site, as well as at all Katharine House shops and the hospice itself, are an easy and practical way to raise money for the hospice. Each card has been beautifully and specifically designed for the hospice. Find a style you like at www.khh.org.uk/christmas-shop.
Or for those who just want to give something back to others this Christmas, Katharine House's Winter appeal will be raising money to help make the festive period as special as possible for patients who might be facing the prospect of their last Christmas with their loved ones. Visit www.khh.org.uk/community-appeal to find out how to donate.
Every year, Katharine House Hospice provides holistic palliative and end-of-life care to around 1,300 people affected by life-limiting illnesses in North Oxfordshire and South Northamptonshire either in their homes, at the hospice, in care homes or in hospital.
Katharine House Hospice CEO, Emma Radley, said: "Christmas is a crucial time for us at Katharine House and a lot of our fundraising comes from the events we host at this time of year. We rely heavily on the donations and support of our communities. Without the money they raise, we wouldn't be able to ensure our patients receive the compassionate, individualised care and support they need to make the most of the time they have left with their loved ones.
"There's something for everyone on our calendar of Christmas events, so we hope as many people as possible take part and help the hospice continue its vital work in 2024."