In the vast and ever-changing seas of competitive sailing, the name Sir Ben Ainslie stands out as a beacon of excellence and determination. His remarkable journey from a young, passionate sailor to a world-renowned Olympian mirrors the transformative evolution of British Olympic Sailing. This is a story rich with resilience, talent, and an unyielding drive for success – a narrative that has reshaped the contours of sailing in the United Kingdom and beyond.
The Early Tides of a Champion
Born in the historic town of Macclesfield, Ben Ainslie's first foray into sailing was nothing short of a revelation. At the tender age of eight, he found himself alone, yet entirely at home, aboard an Optimist dinghy. This early experience was a defining moment – a juncture where freedom and ambition merged, setting the course for a future filled with remarkable achievements.
Sir Ben Ainslie: A National Sailing Icon
The journey from a dream-filled child to becoming Sir Ben Ainslie, Britain's most decorated sailor, is a narrative marked by sheer perseverance and unbridled passion. His path was never smooth, often beset by towering waves and shifting winds, but his resolve never wavered. Each milestone, from local competitions to international regattas, was a testament to his unwavering commitment to excellence.
Crafting the Olympic Dream
For Ainslie, sailing was more than a personal quest for glory; it was a mission to redefine British Olympic Sailing. He envisioned transforming it from a story of underdogs to a saga of champions. Each race, each victory, wasn't just a personal accomplishment but a step towards a grander vision – elevating the profile of British sailing on the global stage.
Mastery of the Seas: A Strategic Endeavour
To Ainslie, sailing was akin to a complex game of chess played on the unpredictable canvas of the sea. It was not just about physical strength and endurance but also about outsmarting the elements and competitors with strategic brilliance and an intuitive understanding of the wind and waves. His mastery of these elements greatly amplified his tactical prowess, setting him apart in the fiercely competitive world of sailing.
The Odyssey of Challenges and Triumphs
The journey to the pinnacle of sailing success was laden with formidable challenges. Ainslie confronted not just the relentless forces of nature but also formidable competitors and the immense pressure of expectations. Each obstacle overcome, each barrier broken, was a step towards cementing his legacy as a sailing legend.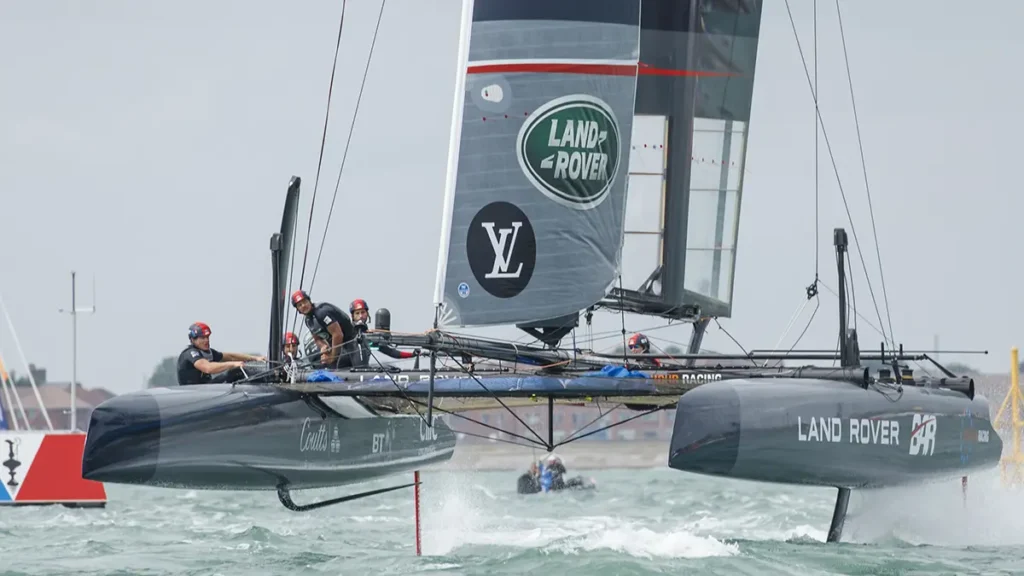 Steering INEOS Britannia to New Horizons
In May 2022, Ainslie took on a new challenge as the captain of America's Cup team INEOS Britannia. This move signified a shift from his individual achievements to leading a team on one of sailing's grandest stages. Relocating the team's base to the Spanish island of Mallorca, Ainslie embarked on a strategic preparation for the 37th edition of the America's Cup in 2024. This decision wasn't just a tactical one; it was a testament to his unwavering commitment to evolving and adapting, striving to claim what has been an elusive trophy in his illustrious career.
Carving a Legacy in British Sailing
Sir Ben Ainslie's impact on British sailing transcends his personal accolades. His true legacy is defined by the swathes of young sailors he has inspired and the new standards he has set in the sport. His journey is a beacon of excellence, encouraging upcoming sailors to dream bigger and aim higher. It's this inspirational legacy that has redefined British Olympic Sailing, making it a force to be reckoned with on the global stage.
Inspiring the Next Wave of British Sailors
Ainslie's career is a narrative that resonates not just with current athletes but also with future generations of sailors. His dedication, strategic acumen, and relentless pursuit of excellence serve as a blueprint for young aspiring sailors. By demonstrating that tenacity and skill can overcome even the most daunting challenges, Ainslie has lit a path for others to follow, fostering a robust competitive spirit within the British sailing community.
Envisioning the Future of UK Sailing
Under Ainslie's influence, the future of British Olympic Sailing is brighter than ever. The seeds of excellence he planted are now blossoming, promising a new era of champions. With a focus on developing talent, embracing innovation, and fostering a culture of excellence, British sailing is poised to continue its ascendancy on the world stage, thanks in large part to the foundations laid by Ainslie.
Sailing: An Art Beyond Victory
For Sir Ben Ainslie, sailing has always been more than a sport – it is an art form, a journey of self-discovery, and a lesson in resilience and strategy. His perspective on sailing transcends the conventional view of sports; it's about the harmony of human and nature, the tactical dance with the elements, and the pursuit of excellence both on and off the waters.
The story of Sir Ben Ainslie and his role in shaping a new era of British Olympic Sailing is a narrative rich with lessons, inspiration, and triumphs. His journey, marked by determination, innovation, and a relentless pursuit of excellence, goes beyond the accolades and medals. It's a testament to the power of dreams, the importance of legacy, and the enduring influence of a true champion. Ainslie's legacy is not just in the records he set but in the future he envisioned and helped build for British sailing.
FAQs
What lessons can young sailors learn from Sir Ben Ainslie's career? Young sailors can learn the importance of dedication, strategic thinking, and adapting to changing conditions from Sir Ben Ainslie's illustrious sailing career.
What is the significance of Sir Ben Ainslie's role in INEOS Britannia? Sir Ben Ainslie's leadership in INEOS Britannia symbolises his commitment to team success and his pursuit of excellence in sailing, pushing the boundaries of what's possible in the sport.
How has Sir Ben Ainslie contributed to the evolution of sailing techniques? Ainslie has been at the forefront of evolving sailing techniques, particularly in strategic race planning and understanding the interplay of natural elements, revolutionising modern sailing.
What does the future hold for British Olympic Sailing? The future of British Olympic Sailing, heavily influenced by Sir Ben Ainslie's legacy, looks promising with a focus on nurturing talent, innovative approaches, and a strong competitive spirit.
How does Sir Ben Ainslie view the essence of sailing? Sir Ben Ainslie sees sailing as an art form that combines skill, strategy, and a deep connection with nature, transcending the traditional view of it as just a competitive sport.