JS Fine Art has long established itself as a beacon of excellence in the world of auctioneering and valuations. Renowned for its extensive expertise and rich history in the auction world, JS Fine Art offers a unique blend of traditional auctioneering skills with modern technology to reach a global audience. Their auctions feature a diverse range of items, from fine art and jewellery to rare collectables and antiques, catering to a wide range of collectors and enthusiasts.
The auction house prides itself on providing professional services not only to individuals but also to legal firms, insurance companies, and other organisations. They specialise in handling sensitive situations with discretion and care, ensuring that every item they auction is given the attention and expertise it deserves. With their commitment to quality and customer service, JS Fine Art has become a trusted name for both buyers and sellers in the auction industry.
Highlights of the Upcoming Auction
JS Fine Art is excited to announce their upcoming Timed Online Only Auction focusing on Ceramics & Glass. This auction, set to start on November 11, 2023, and conclude on November 26, 2023, promises to be a showcase of intriguing and exquisite pieces. The auction's format allows bidders from across the globe to participate and bid on items from the comfort of their homes, making it an accessible event for international collectors and enthusiasts.
This auction is especially notable for its carefully curated selection of ceramics and glass items, each with its own history and charm. Participants can expect to discover a variety of pieces, ranging from antique to contemporary, each with a story to tell. The online format of the auction not only ensures a wider reach but also offers a convenient platform for collectors to add exceptional pieces to their collections.
Featured Lots
Shelley Toned Orange Chamber Stick and Cream Jug: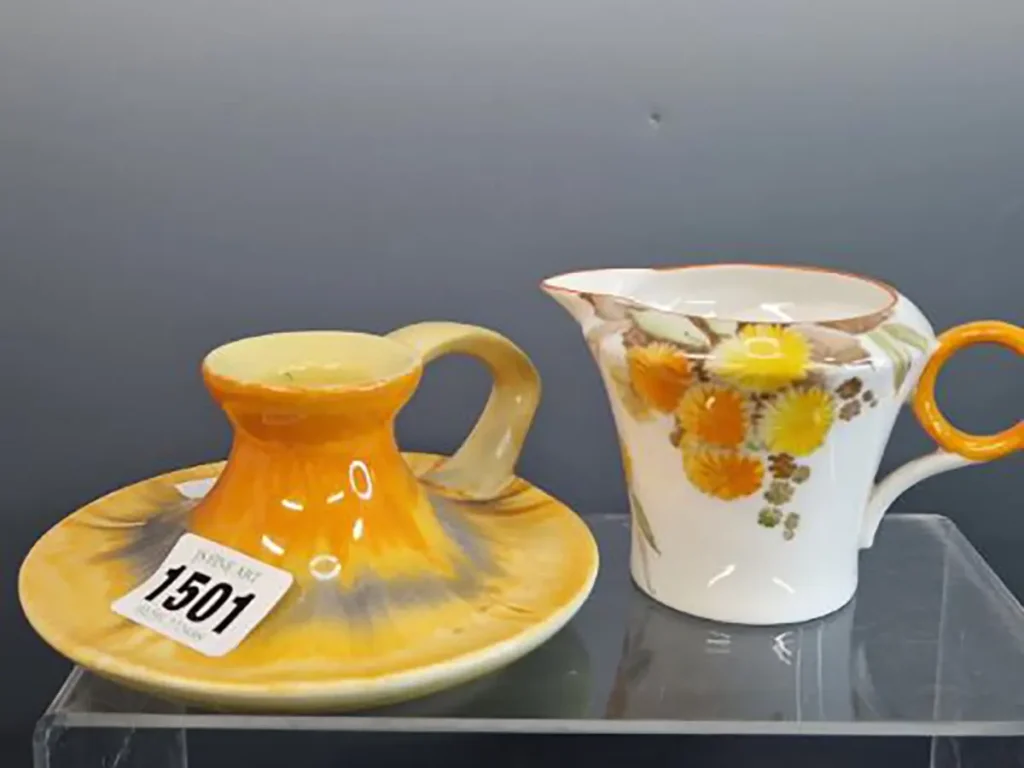 Among the highlights of the auction is a Shelley toned orange chamber stick paired with a cream jug adorned with orange and yellow daisies. This lot represents the fine craftsmanship and artistic excellence of the Shelley pottery, known for its delicate and distinct designs. These pieces are not only a testament to the artistry of early 20th-century ceramics but also a valuable addition to any collection.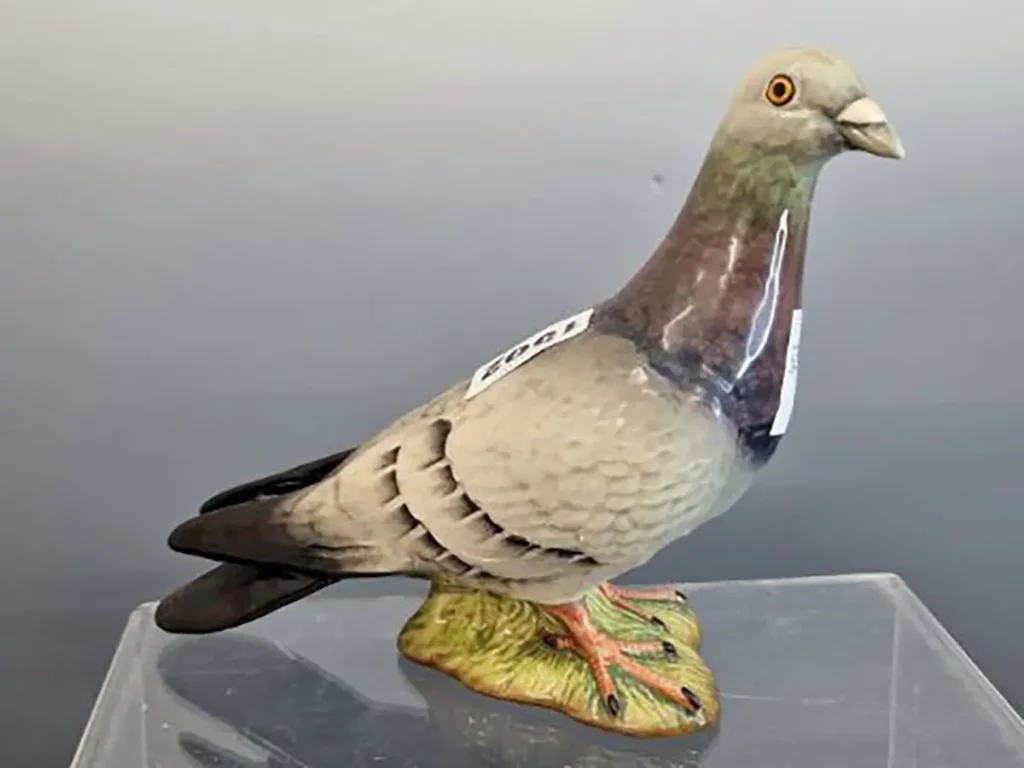 Another featured lot is a beautifully crafted Beswick pottery wood pigeon. This piece stands out for its lifelike representation and attention to detail, a hallmark of Beswick's celebrated figurines. Known for their realistic animal models, Beswick pieces are highly sought after by collectors, and this wood pigeon is no exception.
Altar Vases Attributed to A.W.N. Pugin: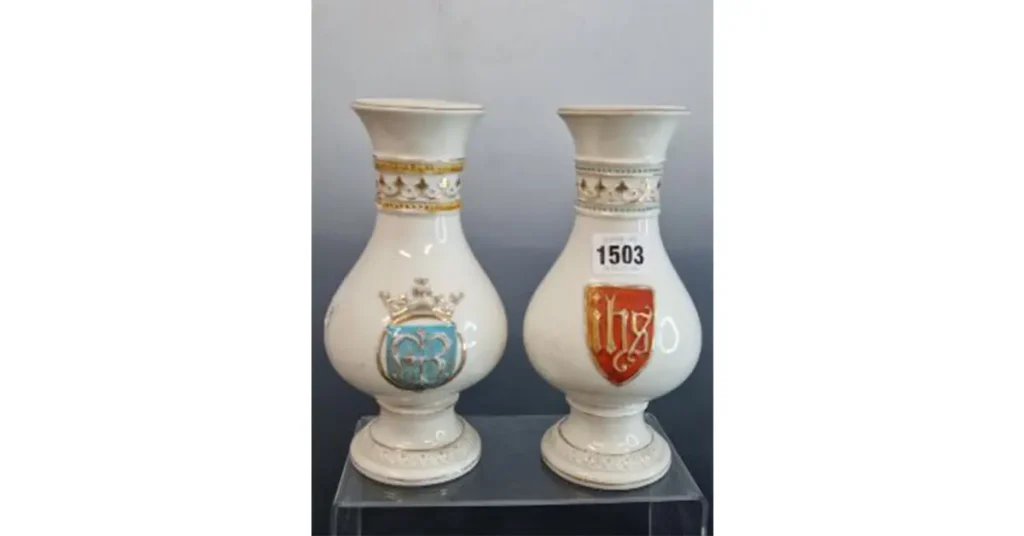 The auction also features a pair of glazed Parian baluster altar vases, attributed to the design of A.W.N. Pugin. These vases showcase the intricate and Gothic-inspired designs characteristic of Pugin's work, making them a rare and significant find for collectors of ecclesiastical art. Their historical significance and artistic merit make them a highlight of the auction.
Why Attend JS Fine Art Auctions?
Attending auctions at JS Fine Art is not just about acquiring unique and valuable items; it's an experience in itself. Collectors and enthusiasts are drawn to these events for the thrill of the hunt and the excitement of the bidding process. JS Fine Art's auctions are known for their diverse and high-quality lots, offering something for every taste and interest. Whether you're a seasoned collector or a first-time bidder, the auction house creates an inclusive and welcoming environment.
Clients have praised JS Fine Art for their professional conduct, extensive knowledge, and the seamless experience of both buying and selling. The auction house's reputation for integrity and transparency ensures that every participant can bid with confidence. The success stories from previous auctions, where rare and sought-after items found new homes, are a testament to the exceptional opportunities that JS Fine Art auctions present.
How to Participate in the Auction
Participating in JS Fine Art's upcoming auction is a straightforward process. Interested bidders are encouraged to visit the JS Fine Art website to register for the auction. Once registered, participants can view detailed descriptions and images of each lot. Bidders can place their bids online, and the website offers a user-friendly interface to track bidding progress.
Before placing bids, participants can view the items in person or request additional information or images to make an informed decision. JS Fine Art's team is available to answer any queries and guide newcomers through the auction process. It's important for bidders to familiarise themselves with the auction terms and conditions to ensure a smooth and enjoyable bidding experience.
Don't miss this exciting opportunity to discover and acquire unique pieces from JS Fine Art's Timed Online Only Auction. Visit the JS Fine Art website today to register for the auction and explore the fascinating lots on offer. For the latest updates, follow JS Fine Art on their social media platforms.
Whether you're looking to expand your collection or seeking that one-of-a-kind item, JS Fine Art's upcoming auction is an event not to be missed. Mark your calendars for November 11 to November 26, 2023, and be part of this exceptional auction experience.