As the crisp air heralds the coming of winter, Europe begins to weave its annual spell of festive cheer. It's a spell cast by twinkling lights, the laughter of community, and the rich aroma of mulled wine that beckons you to the heart of Europe's Christmas markets. A place where age-old traditions marry modern delights, creating a tapestry of seasonal wonder.
Yuletide: A European Celebration
Yuletide in Europe is more than just a season; it's an immersive experience that wraps you in a blanket of joy. Picture the scene: snowflakes gently falling, a golden glow from street lamps, and a feeling of warmth despite the chill in the air. This isn't just the setting for a classic holiday film; this is the real European Christmas market experience.
The Scent of Christmas
Imagine a world where every breath is a reminder of childhood joy. That's what greets you at these markets. There's the comforting scent of mulled wine, mulling over an open flame, cinnamon sticks peeking out like festive wands bestowing comfort. And the sweet, spicy embrace of gingerbread, promising and delivering instant delight.
Nuremberg's Christkindlesmarkt
Nuremberg's market is a tapestry of tradition, where the past dances with the present. Here, you'll find toys and trinkets that have whispered the same stories for generations, and gingerbread so good it could be a currency all its own.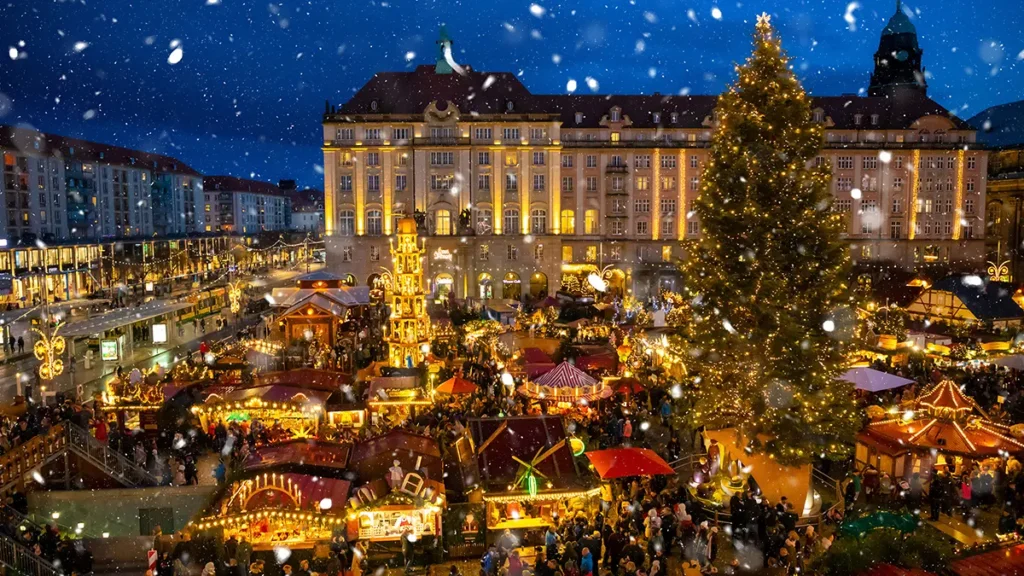 Dresden's Stollen-Filled Streets
Stroll through Dresden's Striezelmarkt and you'll walk a path laid down in 1434. This is where history breathes and where festive traditions take the form of the famous Stollen, a cake rich with fruit, tradition, and the dusting of powdered sugar that turns everyone's smile into a festive one.
Strasbourg's Winter Elegance
Strasbourg is where Christmas dresses in its Sunday best. The Marché de Noël is a tapestry of artisanal craftsmanship, with each stall a window into a world where craft is king and the handmade is the heart of the holiday.
Bruges: A Flemish Fairytale
In Bruges, Christmas is a fairytale brought to life. A place where lace isn't just a fabric but a story woven from the threads of time, and the ice rink sparkles under a sky heavy with the promise of snow.
Vienna's Rathausplatz Radiance
Vienna's Rathausplatz is a dreamscape aglow. Here, the Christmas market sits like a crown at the foot of St Stephen's Cathedral, each light a jewel set against the night, each stall a treasure trove of Yuletide joy.
Budapest's Folk Art Festivities
Budapest's Vörösmarty Square is a canvas of light and folklore, where Yuletide celebrations are painted with the brush of Hungarian tradition, each fold of art a story, each light a verse in a season-long poem.
Zurich's Singing Christmas Tree
Zurich offers a chorus of joy with its Singing Christmas Tree. It's a celebration of community, a choir not just of voices but of hearts, coming together to sing the carols of companionship and cheer.
Seville's Festive Feria del Belén
Seville's Feria del Belén is where Christmas is not just seen but felt, with a lively pulse that turns the month into a fiesta of ornaments and the joy of creation.
Prague's Peaceful Celebrations
Prague's Christmas market is a tranquil island in a sea of celebration, with the Peace Square offering a serene backdrop to a celebration that, despite its calm, lacks none of the festive spirit.
UK's Yuletide Extravaganzas
And if crossing the sea isn't on your Christmas list, the UK's Christmas markets offer a slice of this European enchantment, proving that you don't need to travel far to feel the heart of Yuletide.
Crafting Artisanal Memories
At every market, the hand of the artisan weaves memories you can take home. This is where you'll find gifts that are more than objects; they're stories, they're a handshake across history, a nod to the artisanal craftsmanship that has shaped our celebrations.
The Flavours of Festivity
And let's not forget the feast. From mulled wine to the finest meats, from sugar-dusted pastries to the hearty stews that warm from within, this is a feast not just for the stomach, but for the soul.
The Spirit of Yuletide
In these markets, nestled in the heart of Europe, you'll find the true spirit of Christmas. It's a spirit of joy, of community, and of warmth that no winter can diminish.
FAQs About European Christmas Markets
What makes European Christmas markets unique?
Each market is a mosaic of local traditions, culinary delights, and artisanal crafts, offering a unique festive experience that combines history with holiday cheer.
Can you find local food at these markets?
Absolutely! These markets are a paradise for foodies, offering an array of local and seasonal delicacies that are as much a part of the tradition as the crafts and carols.
What is the best time to visit a European Christmas market?
The markets usually start in late November and run until Christmas Eve. Weekends can be busy, so visiting on a weekday may offer a more relaxed experience.
Are the markets suitable for children?
Yes, the markets are a family affair with plenty of activities, sweets, and gifts that will delight children of all ages.
Do you need to travel across Europe to enjoy these markets?
Not at all. Many UK cities host markets that encapsulate the European Christmas spirit, offering a delightful festive experience closer to home.