As we bid adieu to the lightness of summer, our fashion senses tingle in anticipation of the winter glam that awaits. The crisp air and early nights beckon a transformation, not just of the season but of our wardrobes too. Fashion, though fleeting, cycles back to us, offering chances to revitalize what we own with a dash of creativity. Imagine adding just a bag, or perhaps a bow, to revamp your look. And if the cold bites, fear not, for we'll wrap you in chic warmth.
So, forget the fear of being a dud fizzle at parties. We're here to light your style fuse, keeping you aglow like a roman candle, not just through the winter, but into the heralding of a new year.
Silver Sirens
The gloomy skies stand no chance when silver streaks through your outfit, brightening moods and turning heads. Once overshadowed by gold, silver now claims its rightful place in the spotlight.
Live Large with Voluminous Trends
Make an unforgettable statement with oversized, playful pieces. Think floaty skirts and contrasting silhouettes that scream drama without a peep from you.
Tight Spot: Hosiery's Comeback
Gone are the days of mundane tights. Embrace fishnets, velvet, and a rainbow of colours to turn any outfit from a damp squib into a firecracker.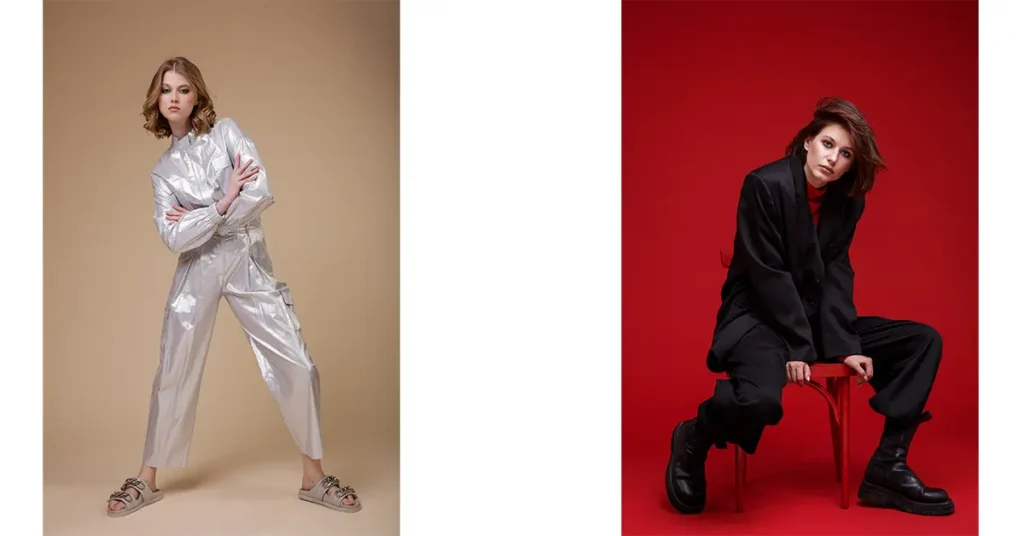 Bow Wow: Tie on the Trend
Be the present in the present with festive bows. Balletcore evolves into a more sophisticated adornment, adding a twist of grandeur to your ensemble.
Clutch Control
For nights out, downsize to a clutch. It's not about practicality; it's about punctuating your poise with a piece that holds just the essentials.
Hide and Seek: Cosy Chic
Wrap up in wool, cashmere, or tartan to embody Balmoral-chic. It's about comfort that meets the demands of style, even if it feels like you've stolen it from your nana's closet.
Your Soiree Strategy
To wrap up, let your winter soiree be a reflection of your inner sparkle. Mix and match, accessorize wisely, and choose comfort that doesn't compromise on style. With these tips, you'll not only feel like a star, you'll shine like one.
FAQs
What's the key to incorporating the iridescent lamé trend into my wardrobe? The trick lies in balance. Pair an iridescent lamé item with more subdued pieces. For instance, a lamé blouse can be teamed with dark trousers or a skirt. It's about one statement piece that shines while the rest complements.
How can I style an ankle-length gown for a winter event? An ankle-length gown exudes elegance and is perfect for winter galas. Style it with a fitted blazer or a faux fur stole for warmth. Opt for bold jewellery and heeled boots to complete a glamorous, weather-appropriate look.
Can voluminous outfits work for any body type? Absolutely! Voluminous outfits are all about proportions. Choose a volume that flatters your shape; for instance, if you're petite, avoid overwhelming your frame. Pairing voluminous tops with fitted bottoms can create a harmonious silhouette for any body type.
What are some tips for choosing the right bow adornments? When selecting bow adornments, consider the scale and placement. A larger bow can be a focal point, while smaller bows can serve as delicate accents. Position your bow where it complements your figure, like at the waist to cinch it in or at the shoulder to add an asymmetrical interest.
How can I maintain chic elegance when using a clutch? Select a clutch that's both stylish and functional. A structured clutch in a neutral shade or a metallic finish can add sophistication. Ensure it's large enough to carry essentials but small enough to not detract from your overall look. The elegance comes from how you carry it—confidently and as an extension of your outfit.